This weekend, which will include Monday just because I didn't get any work done yesterday, was awesome. A few friends were visiting from Ottawa to see a Muse concert, and as a result, there was much partying. Besides the necessary boozage, there were a few interesting items of note, namely a walking tour of the seedy parts of Toronto, a lecture by the author of one of my favourite web comic artists, and a drawing session with a pretty belly dancer. Ok, the last two had nothing to do with my friends from Ottawa visiting, but bear with me.
First of all, the walking tour. Of the group of friends who were visiting, there was only one female, and we shall call her L. L didn't want to walk around aimlessly all day on Sunday and so picked up the NOW magazine and discovered a teeny tiny add for a walking tour entitled "Blind Pigs & Card Sharks". It was led by a novelist named
Lisa Pasold
, who spent a lot of time promoting her book, but who was otherwise an excellent tour guide. We started at
Union station
, where we learned it was built in 1922, but not opened for five years after that because they had to reroute the train tracks. We then went through the
Royal York Hotel
, which is absolutely gorgeous, and learned that it opened right before the stock market crash of 1929, but was still a place of absolute luxury and class.
We then walked along Front street until just passed Yonge, passed the
Hockey Hall of Fame
and through Berczy Park, then up Church street to King. On the way, we learned all about the more disreputable life in Toronto in the 1920s to 1940s, about prohibition, the gambling, and the poor neighbourhoods. We then went back up Yonge towards Queen and passed by the
King Edward Hote
l and through
Cloud Gardens Park
, which was probably my favourite part of the tour. I'll have to go back there for a picnic. The tour ended at
Old City Hall
. Overall, the tour was really fun... I'd love to do that sort of thing again.
The next exiting event was a lecture by the author of
PhD Comics
, Jorge Cham. It was quite entertaining, but a lot of it might have been because the audience, which was 99% grad students, was so ready to laugh. The comic is about the lives of a few engineering grad students, with a token Humanities student. It's all about free food, being terrified of one's supervisor, the "graph"... for the most part I can really relate. Jorge's talk was mostly about how Procrastination is a natural mechanism for grad students to cope with the stress of being in grad school and all the expectations that come from that. It was a good time.
Finally, last night, I dusted off my sketchbook and went to a
Dr. Sketchy
session at Cameron House. And by "dusted off my sketchbook" I mean that my last drawing was done in July, 2008, and the last one before that was done in September, 2005. Anyway, I went with my friend
Jori
, who is a much better artist than I. The lovely
Samara
was modeling, and though she was pretty good at it for her first time, I found her poses to be a little uninteresting. I think she made up for it with her gorgeous belly-dancing costumes. To finish off, here are a few of my sketches: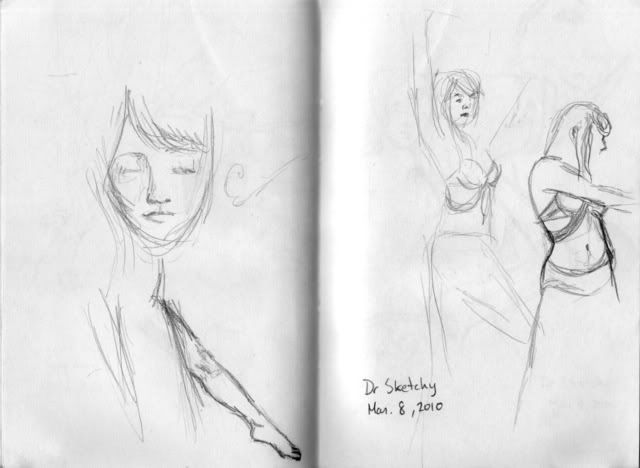 (One-minute poses)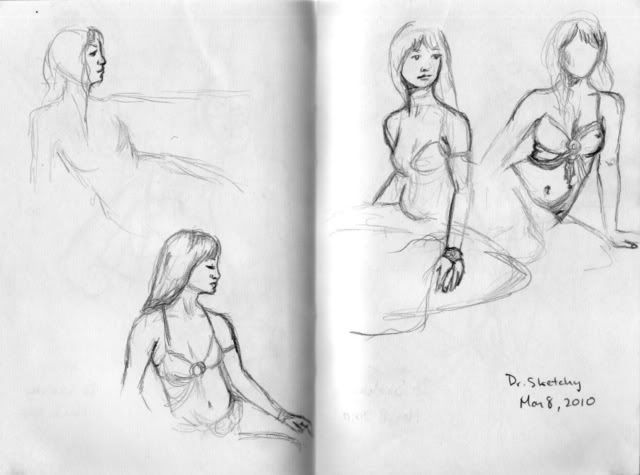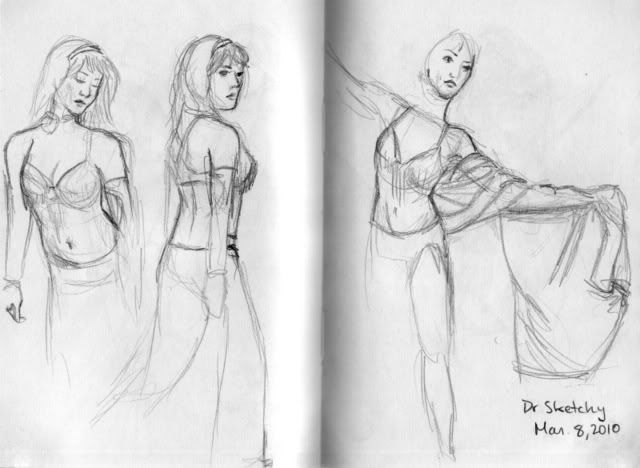 (Five-minute poses)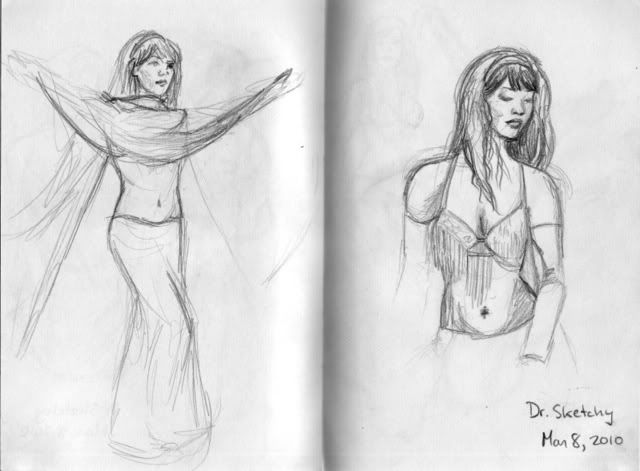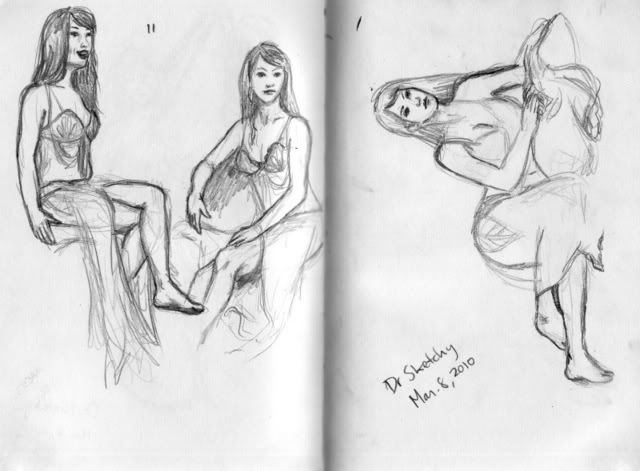 (Ten-minute poses)