Yesterday, I went to the
Creativ Festival
. (Yes, a timely post. Who'd a thunk it?) It was really fabulous and totally worth the trip downtown. I would have taken pictures of the whole thing, but it was strictly prohibited to bring cameras onto the convention floor. That didn't stop some people though, and I was slightly annoyed by that. Anyway, here's proof I was there: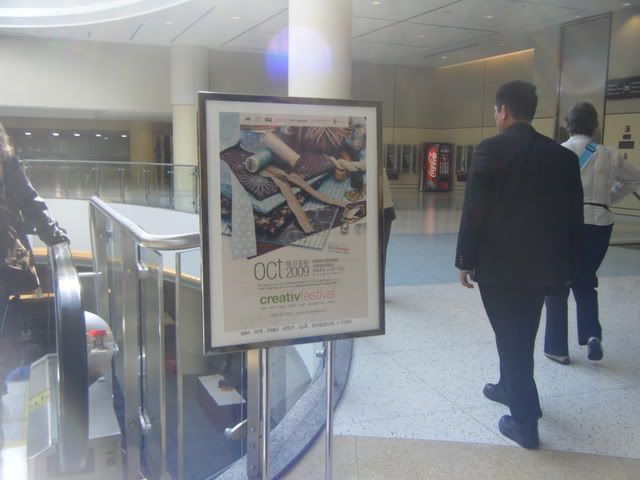 I think my favourite thing at the festival, even before the yarns, was the quilting. The centerpiece of the whole festival was the
Quilt of Belonging
. It is a 120 foot-long quilt with 263 hexagonal blocks from different nations around the world, including a lot of native american tribes. It was quite impressive, to say the least. Some of the blocks are incredibly ornate, and the one I was most impressed with was the one from
France
, which was created using
petit-point
, a diagonal embroidery stitch, at 1600 stitches per inch. It took a year to make.
There were also some really nice Mennonite quilts hosted by
Len's Mill Stores
, some of which went way beyond being crafts, to full out art. There was a really nice one that used different blocks of patterned fabric to create shading in the background of a floral still life, which was really amazing. I really wish I could have taken pictures of those. Another favourite was the quilts by Designs by Shiromie (unfortunately, I could only find her
Etsy page
, which only has one quilt). She used sari silk and beautiful stitching to create these amazingly complex and luxurious quilts, and it's too bad she only had a little tiny booth. The quilts by
Lenore Crawford
were pretty fabulous as well. We also got to play with some quilting machines (looks something like
this
), and that was super fun. We could sew designs into a quilt with this lazer-guided machine, and it was super smooth and awesome.
I definitely got my fill of beautiful yarns as well. Some of my favourite yarn stores had booths, including
the Purple Purl
and
Romni Wools
, and there were tons of yarn stores I'd never heard of before. I actually showed amazing restraint and only bought one skein of yarn and a little bit of fluff for spinning. Here they are: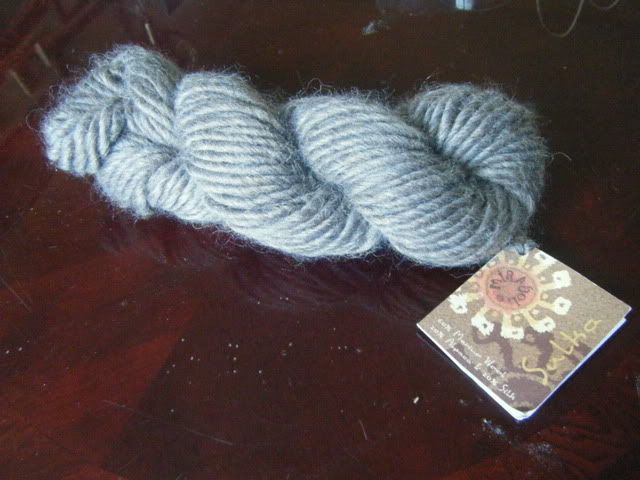 The fluff is a little bit of pure wool I got from
British Yarn
, hosts of the UK knit camp. They gave me a nice Ravelry pin as well. The skein of yarn is some
Mirasol
Sulka, which is a 60% merino, 20% alpaca and 20% silk blend, and it's a single-ply bulky yarn. It's quite possibly the softest thing I've ever touched, save maybe a kitten. It's actually a little browner than in the picture. I got it at the
Spinning Wheel Alpacas
booth, where they had an alpaca named Ozzy on display. He was super cute and friendly.
Because I couldn't take pictures inside the Creativ Festival, I took a few inside the Convention Centre. Here's a giant woodpecker:
And a classy-looking moose: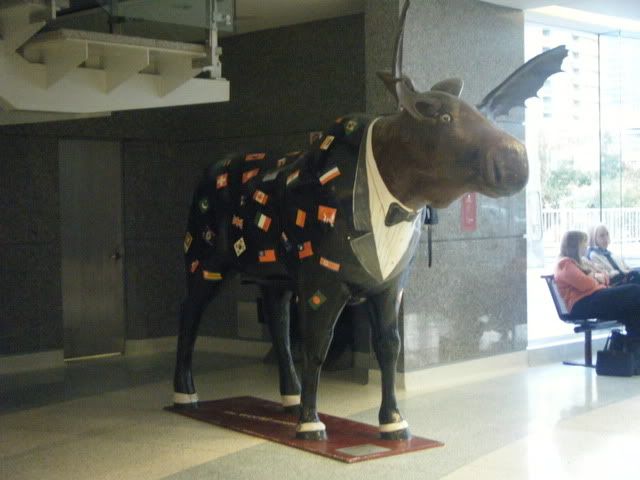 And some fancy floor mosaics: