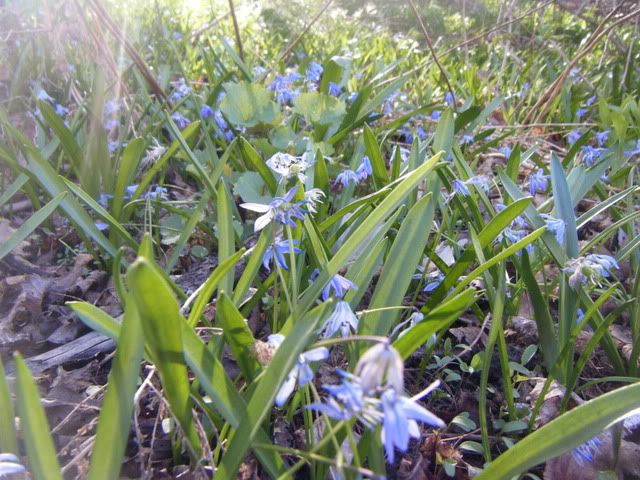 A defiant spread of crocuses, jagged,
Noble, everywhere in interstices
Of soil between rocks, showed,
Indifferent -- oh, indifferent. Whether
Prophecy had god, had doom in it
To come, they exulted, white,
Purple, stamens gold, six petals,
Unknown except you bend down to it.
But colour far, near, some yellow,
Out of the debris of April roots,
And marks and tendrils left in the snow gone.
Nobility was there to see, never
Mind resurrection, beauty
Was here.


_______

A path of landscape,
An acre.


_______

I gazed.
You looked again and to the right, behind,
A bunch of crocuses grew there.

-- Ralph Gustafson (1909-1995)

Note: I don't think those flowers are actually crocuses, but ever since the little flowers have started poking their heads through the grass, I've had this poem in my head. Ralph Gustafson lived near my hometown until he didn't live anymore, and my dad set a lot of his poetry to music, and I've been humming the tune to this one over and over...