Despite my scholarly attitudes, I don't really read all that much for pleasure. I have a craft library of a dozen books, a few of which I've actually read cover to cover, but considering my obsession with things yarny, it doesn't seem like that much. It definitely doesn't give me
an honorary librarian degree
. I know if I had a subscription to any sort of crafting magazine, most of the articles would go unread, and I'd likely have a backlog of magazines to read (such as with our WIRED subscription right now). I need not even mention my to-read pile of books I received as gifts that I really should get around to picking up. I haven't bought a pleasure-reading book for myself in years.
Thus, it was totally unnecessary for me to buy the special Piecework issue called "
Knitting Traditions
" from Interweave. But you know... it was 43 patterns for $20, all of which are socks, lace or baby items, items I'm currently slightly obsessed with. And we all know how I feel about vintage and complex patterns. (Well, if you don't, suffice it to say I'm drawn to them.)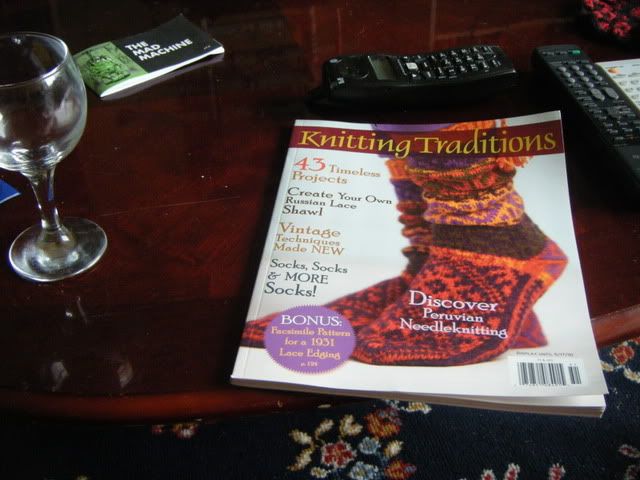 I actually have read this publication from cover to cover, and it only took me a month or so to get through it! Seriously... Anyway, all the projects are really nice. There are a few I would probably never make, and a few I would think about making if I didn't have a ridiculously long list of projects in my queue. However, there are also a lot of projects I definitely want to try. I'll go through these briefly.
In the sock department, it was mostly techniques that impressed me. The "Floral-Motif Bulgarian Socks" by Priscilla Gibson-Roberts are based on a traditional Bulgarian design (duh), and incorporate a really interesting method of incorporating colourwork while knitting in the round. It involves slipping stitches and going back with the background colour... something I'll actually have to try to fully understand, I think. I don't know if I'll ever make this exact pair of socks, but I'll definitely keep the technique in mind if I want to do colourwork in the round.
The next sock technique that really impressed me was the method for knitting two socks at a time one inside the other on double-pointed needles using a double-knitting technique by Jacqueline Fee. This is not something new to me, since I discovered it when I was first learning about double-knitting in this
Knitty article
by Kory Stamper. I think I actually prefer the Knitty article because it shows you how to cast on two at a time while the Knitting Traditions article suggests knitting the ribbing separately. It's still nice to have the article in print with pretty pictures and everything.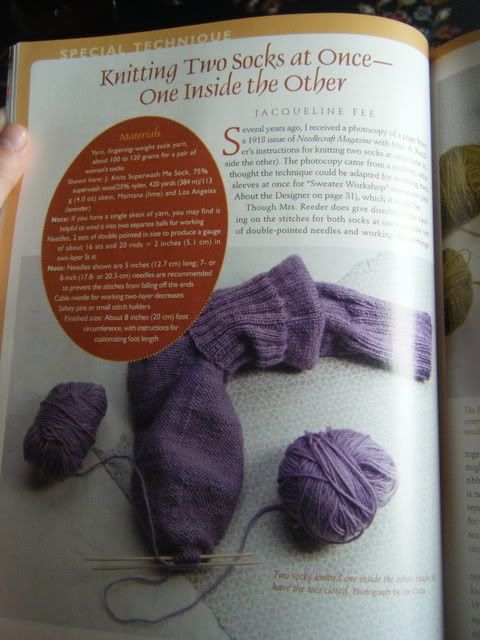 All the baby items are gorgeous, but I can't see myself actually trying any of the patterns because babies grow so fast and I don't believe in putting so much work into something that will only be worn for a few months. There are also quite a few glove and sweater patterns that look nice. I can see one or two I would think about making, but for the most part, they're just pretty to look at on the page. The lace patterns, on the other hand, are pretty damn droolerific. I can totally see myself making this: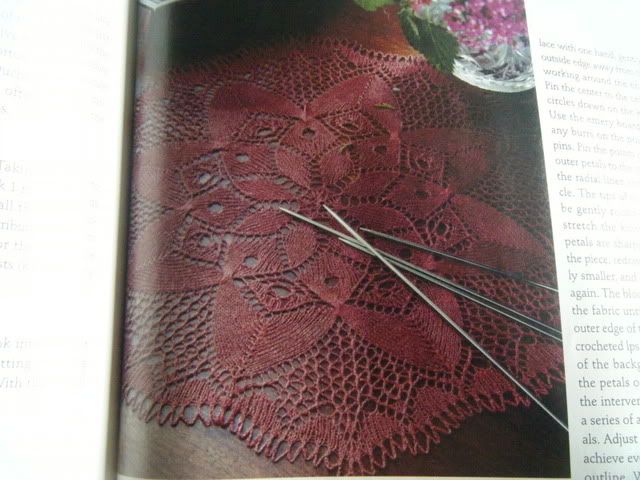 It's "A Christine Duchrow Lace Centerpiece" adapted by Charlene Schurch. It's just so complex and pretty and uses thread with 1.5 mm needles... oh heaven! I would consider making this as a blanket in a thicker yarn with larger needles, but there's something about the ornateness and uselessness of doilies that really appeals to me. There are also a considerable amount of lace edgings, but I think I'll probably also try these squares by Mary Walker Phillips... maybe make a baby blanket out of them. I especially like the leafy pattern.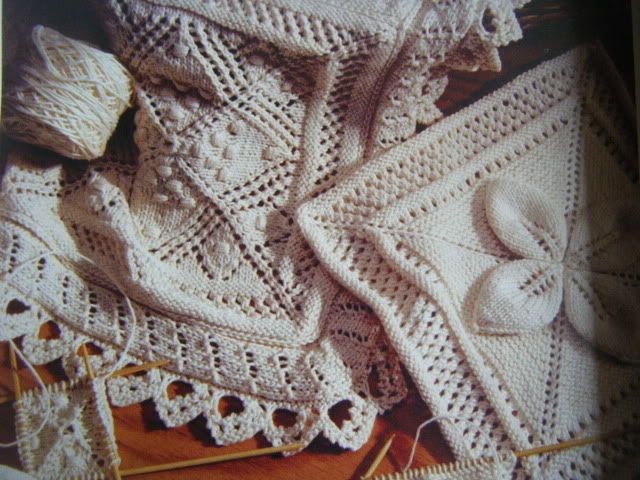 Anyway, that's all for my adventures in magazine land. I'm seriously considering getting a subscription to Piecework because I enjoyed this one so much, but I probably won't for the afore-mentioned reasons. Ah well...