I know that one post won't properly sum up all the knitting I've done since Christmas time, but I'll attempt at least to give you a rough overview in this two-part blog post. Using my rudimentary photoshop skills, I'll try to sort of group projects into themes. I've included links to my Ravelry projects pages for each of these in case you want more information.
The first theme is socks! I love knitting socks, and I love wearing hand-knit socks. They're great portable travel projects and can be as complicated or as simple as you like. And nothing is as warm and squishy as a hand-knit sock hugging your toes.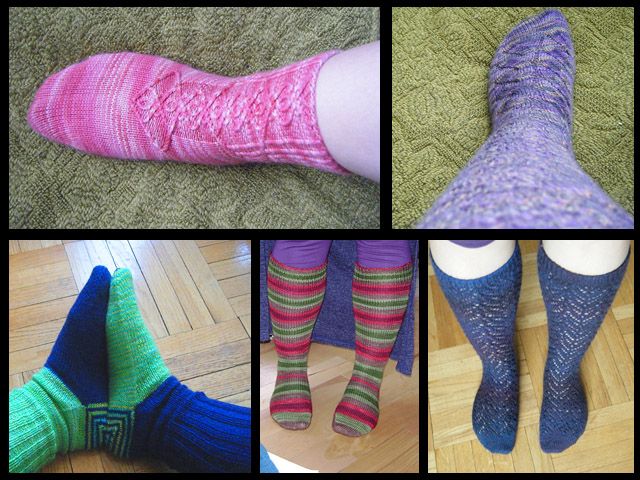 Clockwise from the top left, we have my
Twisted Mockery socks
knit in a mystery gifted yarn, my
Nutkins
knit in
Austermann Step
, my
Johanna socks
knit in
Jojoland Melody Superwash
, my
Turtle Toes socks
knit in
Turtlepurl Yarns Striped Turtle Toes
, and my
Double Helix
socks knit in
Cascade Heritage
and
Fiber Charmer Chris Sock
.
I'm always a fan of interesting heel construction, and with the Double Helix pattern, I was able to try an innovative spiral heel which turned out beautifully. On top of that, the Twisted Mockery socks provided me with the opportunity to knit my first heel flap! Can you believe I'd never knit one before? I can't say it's my favourite, but at least I've expanded my horizons. I'm always in the market for cool new sock yarns too, and the Turtle Toes socks are knit with my favourite sock yarn concept to date. You might have noticed that the stripes on the socks match up perfectly, and that wasn't an accident. The yarn came in two skeins that were dyed together so that the colours would show up at exactly the same place! What they can do with science these days, let me tell you...
The next theme is stuff I've been knitting for others!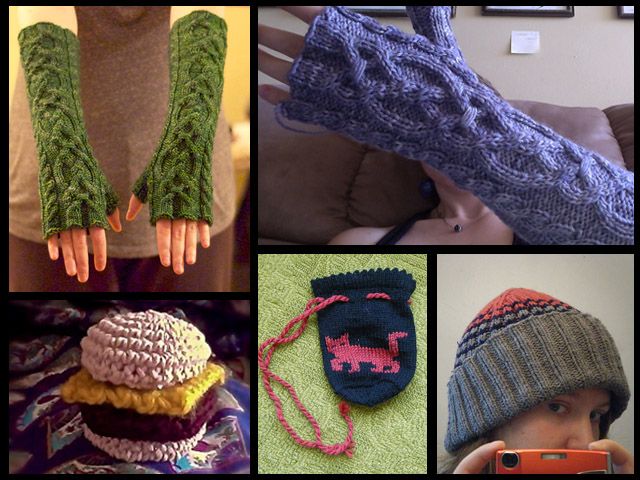 Again clockwise from the top left, we have
Evenstar gloves
I knit for Ellie in
madelinetosh dk
, Evenstar gloves I knit for Daphne in
Araucania Nature Wool
left over from my
Luxe Cable sweater
, a
toque
I knit for Yeddi in various leftover yarns, a
super cool dice bag
I knit for Miranda in a mystery leftover sock yarn, and a
catnip-filled hamburger
I crocheted for Nick's kitty out of random scraps.
You probably noticed that I've knit the Evenstar pattern twice in the above picture, and let me tell you, I'd gladly knit it up again! The cables are just so addictive in that pattern, and the result is just stunning. The first pair I knit in the madelinetosh was so amazing (that yarn is worth every penny) I was immediately hooked. This was actually the third time I'd knit that toque pattern as well, and I had knit a dice bag for myself before I knit this one for Miranda. I used to hate knitting the same pattern twice, but I guess I've now found a collection of patterns that I can fall back on when I want to knit a certain type of gift.
And next up we have patterns I've test-knit for the
Happy Seamstress
. Joanna has been very prolific over the last few months, and I've been lucky enough to get first dibs at knitting them up!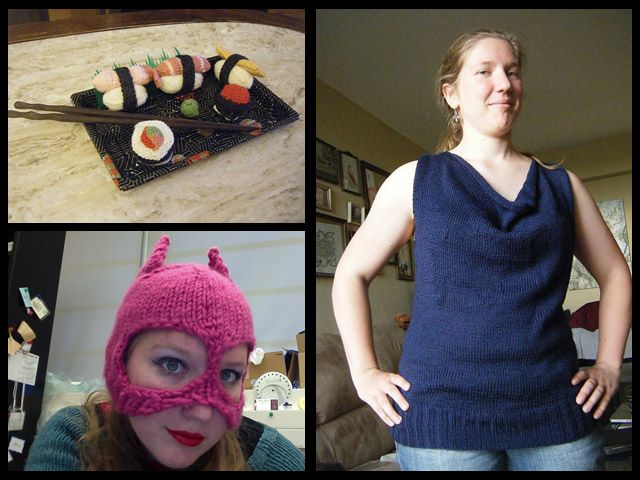 Clockwise from top left, we have
sushi
I knit from a kit Joanna had given me, the
Cafe Tank
which I knit from
Knitpicks Galileo
, and my bright pink
Bat Hat
which I knit from
Bernat Roving
. The latter was part of my Halloween costume. I was a pink cat woman type thing.
By the way, Joanna is having her patterns featured as part of the
Independent Designer Program
on Knitpicks, so you should definitely check that out!
There's more, of course... Next time I'll talk about baby gifts, stuff I've knit for myself, and wedding presents. Hopefully that will cover almost everything!