Welcome to Part 2 of this catching-up-on-my-knitting instalment! We begin with some projects I knit purely for myself, 'cause really, I'm the one who appreciates my knitted gifts the most. As before, I'm linking to my Ravelry project page for each project in case you want more details.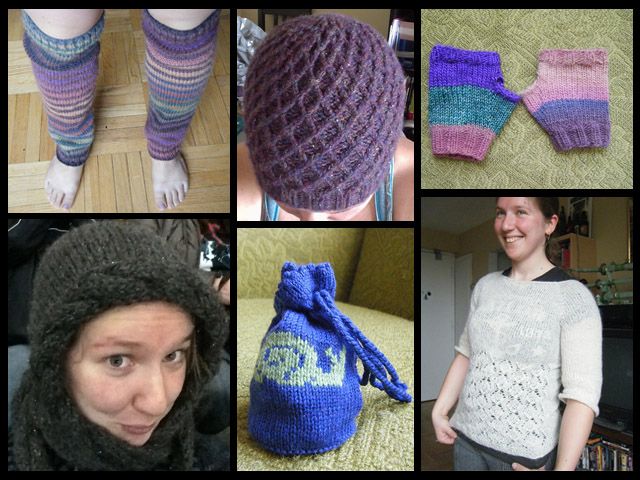 Clockwise from the top left, we have some
stripy legwarmers
knit in
Knitpicks Chroma
, a super-soft
Koolhaas
knit in
Berroco Flicker
, some
fingerless mitts
knit from various leftovers, my
Morning Dew
sweater knit in Lanificio di Milano Mohacril (vintage), a super-awesome
dice bag
in
Cascade Heritage
(because I'm really cool now and play Dungeons & Dragons), and a wonderfully soft and warm
hooded scarf
knit in
Diamond Luxury Collection Baby Alpaca Glimmer
.
The yarns for most of these projects were wonderfully luxurious to work with. The Berroco Flicker, for example, I was at first attracted to because of the shininess, but then when I touched it, it was so soft that I couldn't put it down and it just had to come home with me. I think a similar situation happened with the Diamond Luxury Collection Baby Alpaca Glimmer (now that's a mouthful). The Knitpicks Chroma isn't quite as soft as baby alpaca, but it was still lovely to work with and the resulting legwarmers are super soft and warm. Boy are we lucky to live at a time when so many awesome yarns are available!
And now, some baby things!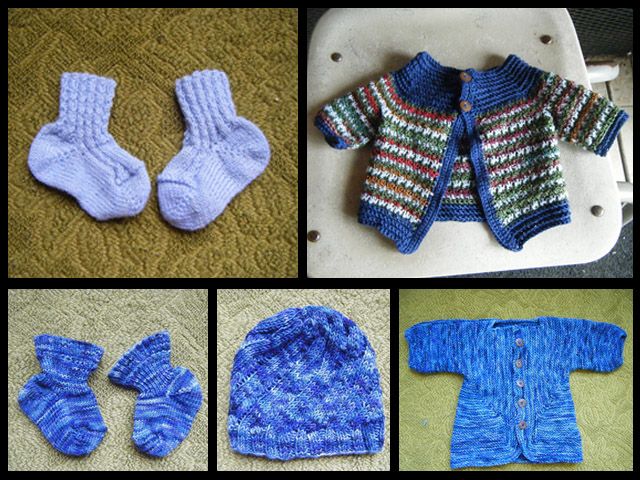 Starting in the left corner and going clockwise, we have
some baby socks
in Patons Kroy 3-ply (discontinued), a cute
baby cardigan
in various scrap sock yarns, and a
baby surprise jacket
,
swirly hat
, and
baby socks
in what I think is
Punta Merisock Hand Paint
(it was a gift yarn, so I can't be sure). The three items knit in the Merisock went to my friend Ellie, who's due to have a baby any second now, the multi-coloured cardigan went to my friends Shanna & Gordon and their lovely little girl Beatrice, and the pale blue socks will likely go to my sister-in-law's baby. I love knitting baby things! They're so cute!
Now, I did say
last time
that I would also talk about wedding knitting, but perhaps I'll save that for a future post because there's still one more wedding to go to this season and I have plans to knit something up for that too.