I mentioned in my previous post that I've been crocheting for a year now, and I thought I might show some of my favourite projects so far. Please note that all of these pictures were taken with my laptop webcam, and so aren't of the best quality. Anyway, here goes:
My first project after completing those
wrist warmers
was a
shoulder beholder
from
The Anticraft
for a good friend of mine who used to be obsessed with D&D. This being my first project where I had to crochet in the round, there was a considerable learning curve, but the beholder turned out so cute in the end that I almost couldn't bear to part with it.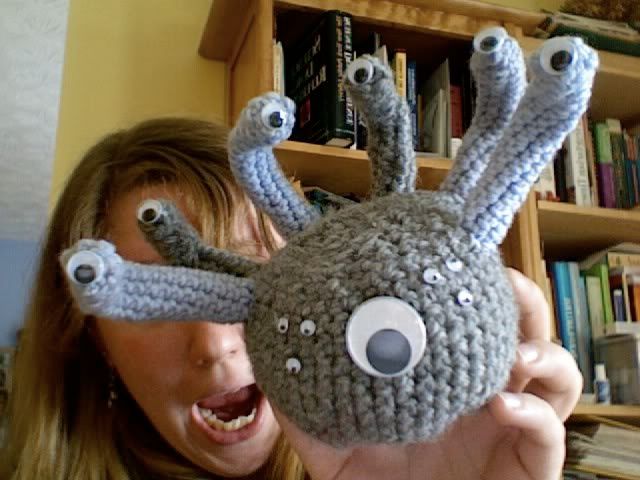 The next project, and, surprisingly enough given my novice crocheting skills, my first original, pattern-less creation was a little bag for my boyfriend. It was also my first stash-busting exercise given that I'd just gotten a bunch of scraps of yarn from my grandmother's stash, since she was becoming too blind to knit anymore. It was very simple, just a long rectangle folded to form a pouch, but it was also lined, adding another level of difficulty.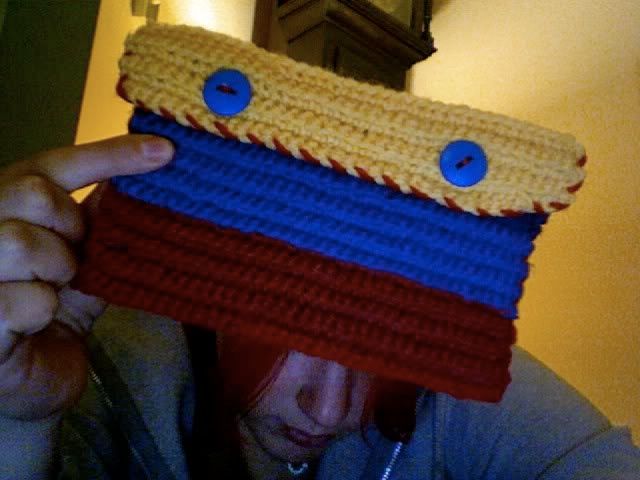 Always up for a challenge, I decided next to try my hand at crocheting lace. Armed with a teeny tiny metal hook at some brand new black cotton crochet thread, I decided to take on another pattern from The Anticraft,
Asphyxiation
. The first lace square I made turned out all loose and wonky, but after that, I seemed to get the hang of it, and the end product was fairly satisfactory.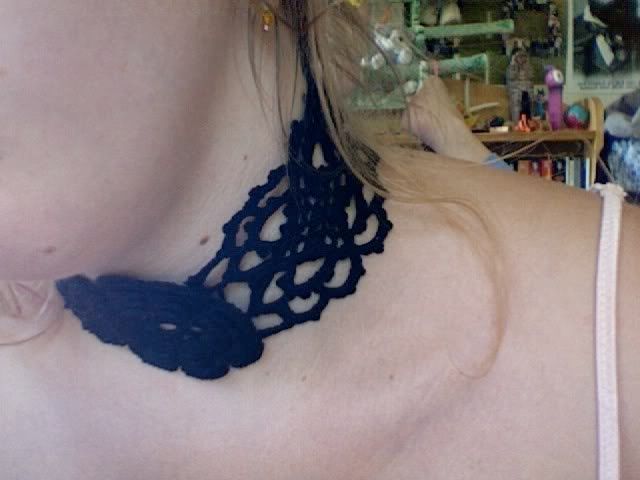 After this point, my crafting output increased exponentially. I would start a new project as soon as the last one finished, and now it's gotten to the point where I have at least three projects on the go at all times. The increase in productivity probably started when I got a whole bunch of new crochet books, starting with
Not Your Mama's Crochet
by Amy Swenson. Though all the patterns were really inspiring, and her instructions in the first half of the book allowed me to become more confident in the craft, I've only actually made one pattern from that book (and this is only one of two patterns I've made from my numerous craft books). I guess I prefer the smaller and easier projects found online, but there's something nice about being able to look at patterns in a book. Anyway, the one project I've made from Swenson's book, and which I've actually made four times, is the "It's a Toque, Eh?". The first time I made it for myself, I used the recommended hook and yarn size. Had I stuck to the pattern, the toque, which is supposed to come down over the ears, would have ended up looking like a yarmulke. I had to add at least ten more rounds so that it would fit me. For subsequent toques, I learned my lesson and used a larger hook... but I certainly learned the importance of checking one's gauge!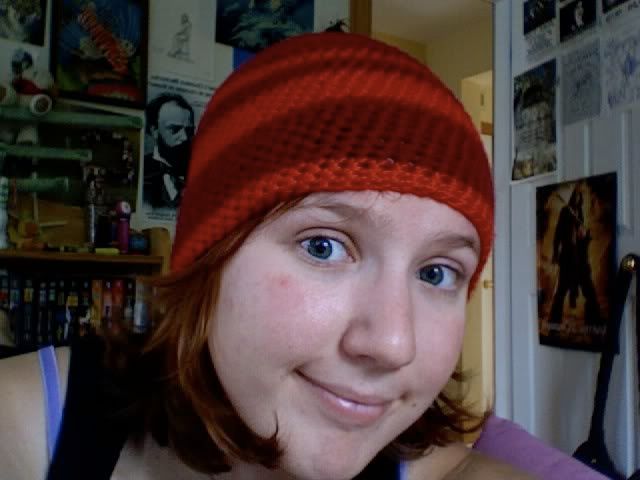 Many many other projects have since been created, and I will likely talk about them in future posts. Looking back on it, I certainly have come a long way...