Last Wednesday, Nov. 11, it was
Remembrance Day
, and to commemorate the occasion, the
TSO
put on a performance of
Benjamin Britten
's War Requium (Op. 66). It's a piece for full orchestra, chorus, children's choir, and vocal soloists (soprano, tenor and baritone). To give you an idea of the epicness of the performance, here's a picture I snuck of the stage: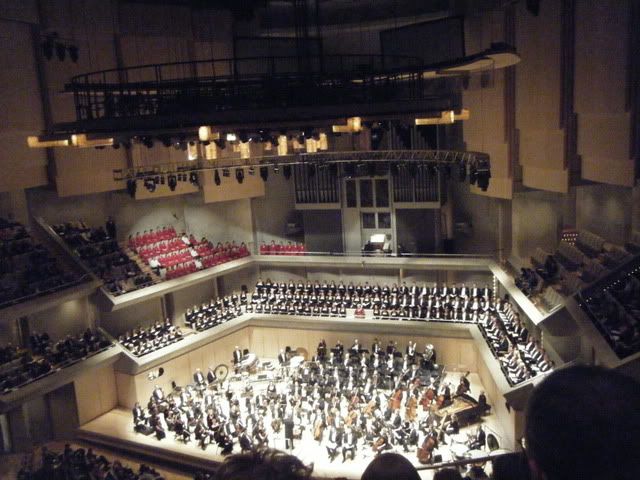 The orchestra is, of course, on the stage, the adult choir is on the first balcony, and the children's choir is on the second balcony in the red robes. It's difficult to see, but there were two percussion sections, and the pipe organ was also used.
The piece itself was quite moving. Inspired by the requiem mass, it has seven movements:
Requiem aeternam, Dies irae, Offertorium, Sanctus, Agnus Dei,
and
Libera me
. (To tell you the truth, I was thinking about
Liva
, a Latin metal band, the whole time.) The lyrics are a mixture of texts from the
Latin Mass for the Dead
and poetry by
Wilfred Owen
, a poet who died in WWI at the age of 25. The soprano and choir performed the mass texts, while the tenor and baritone, representing an English and a German soldier respecitvely, sang Owen's poems. The children's choir and the organ were supposed to be "offering disembodied commentary on the proceedings" (according to Don Anderson).
I found the performance to be rather visceral. Frequently, I had a shiver go up my spine. At times it was verging on almost too chaotic, but this did well to convey the terribleness that is war. I quite enjoyed myself (even though I had to take a bathroom break and missed the third movement), and I left with an unsettled feeling in my stomach. It was good.