This is totally me right now:
I have a conference to go to on Friday, well, technically a
meeting
, and I'll be giving my very first talk in front of people who actually know what I'm talking about. We're supposed to have a practice talk session with my supervisor tomorrow afternoon, and I've finished... well, maybe the introduction slides. This is because I'm procrastinating. In fact, right now, I'm procrastinating from my procrastinating, since I got distracted from reading blogs on Google Reader to write this blog post. I sure hope my supervisor doesn't read this.
Anyway, I thought I'd take this opportunity to show y'all some baby things I made recently which I can now display proudly since the recipients have received them (yesh, I spreak the Engrish). First up, we have baby legwarmers!
I got the inspiration for these from
Kelley Petkun's
Knit Picks podcast (that lady is full of good ideas). The motivation behind baby legwarmers is that babies often wear these little onesies that are legless and their little legs might get cold. And the best part is that when you're changing the baby, you can leave them on!
I made these from a free ball of
Patons Kroy Jacquards
(in the colourway Cameo) that I got at the
Stitch 'n Pitch
, which means they're washable, and also adorable. I used the pattern
Baby Leg Warmers
by Erin Cowling over others, mostly because of the author's nickname. I made only one major change, which was to add increases for the thigh.
Next up, a baby-sized aviator cap!
I made this using some gifted
Knit Picks Andean Silk
in the Slate colourway, a highly inappropriate yarn for baby things, but I don't care. The little flower is crocheted out of some left over Noro from that
baby surprise jacket
I made. I used the
Aviatrix baby hat
pattern (Ravelry link only) by Justine Turner, which I am definitely going to do again in an adult size for myself (maybe in lime green?).
Finally, the world's saddest elephant:
I made this using some of the left-over Andean Silk, so it's super soft, but it's totally going to be ruined the first time it's washed. I used Cristina Bernardi Shiffman's
Oliphaunt
pattern, which has rather cryptic sewing up instructions, and thus I attribute my little guy's wonkiness to this fact. Of course, I also did the pattern in stockinette instead of garter stitch, which may have also contributed to the wonkiness. Whatever. He's cute.
And a bonus shot of my cousin's baby (who all the above things were for) wearing her handknit booties!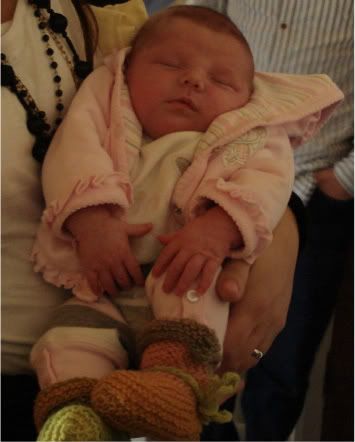 D'aw! Ok, now back to writing my talk... ahem...