So I was reading Vashti Braha's blog from the beginning (I'm a little obsessive like that), and I had gotten to her entry entitled
"Tools of Power"
. So she got some new crochet hooks... wait, circular crochet hooks? Whaaaaa? My mind was blown.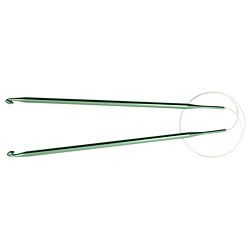 I'd heard of double-ended crochet hooks, though I had no idea what they were for. I guess I didn't really care that much... but circular crochet hooks? It's like a strange hybrid between circular knitting needles and crochet hooks (well, not "like", that's what it is). Circular knitting needles being my tool of choice in that craft, I had to find out more. After a little research, I found out that these needles are used for
Tunisian crochet
(check out some great video tutorials
here
) with two strands of yarn, usually of different colour.
You start off by chaining a few stitches and pulling up a loop through each chain while keeping it on the hook, just as you would for regular tunisian crochet. Then, instead of pulling the yarn back through all the loops, you move the loops down to the other crochet hook at the end of the wire and, using another colour, attach the yarn and start pulling the loops through on the opposite side. Here's a
tutorial
using a double-ended crochet hook, which is exactly the same idea. The end result is a two-sided fabric with more of one colour on one side than on the other, and without the curliness of regular tunisian crocheted fabric. The circular hooks are used for particularly long pieces of fabric, such as for afghans or blankets.
Neat! And just to prove that I'm not a total n00b when it comes to Tunisian crochet, you might recall my camera hoodie from this post, which I made using the tunisian knit stitch.