I have to start by saying that it's absolutely gorgeous outside right now. The temperature is 25 degrees Celsius and there isn't a cloud in the sky. And of course, I'm cooped up in my office working on my research project which I have to defend in two weeks! I did spend about half an hour crocheting in front of the McLennan building, but I don't feel like that was enough.
Anyway, on to the real subject of this post: yarn! I recently found out that I was getting a scholarship from NSERC for next year, and to celebrate, I bought about $70 worth of yarn on
WEBS
. I got nine balls of
Rowan Cotton 4 ply
, which has since been discontinued so it was cheap, so I could make the Icelandic Turtle Neck from the
Crochet Me
book. The pattern calls for wool yarn, but I thought it would be a better summer top if I made it out of cotton. I also modified the turtle neck so that it's less long. Here's the yarn: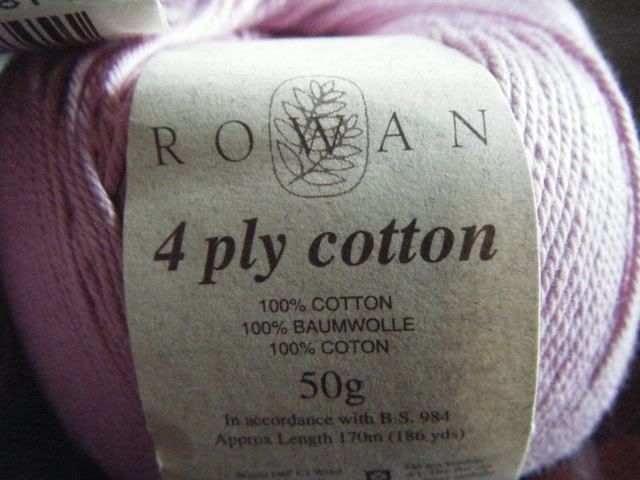 And here's a bit of swatching, and the beginning of the collar: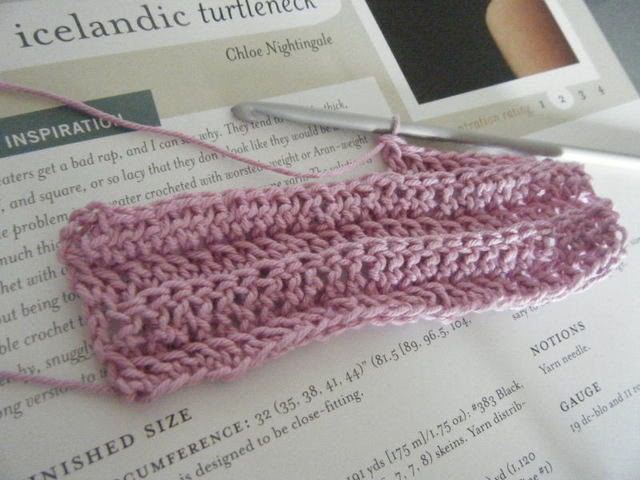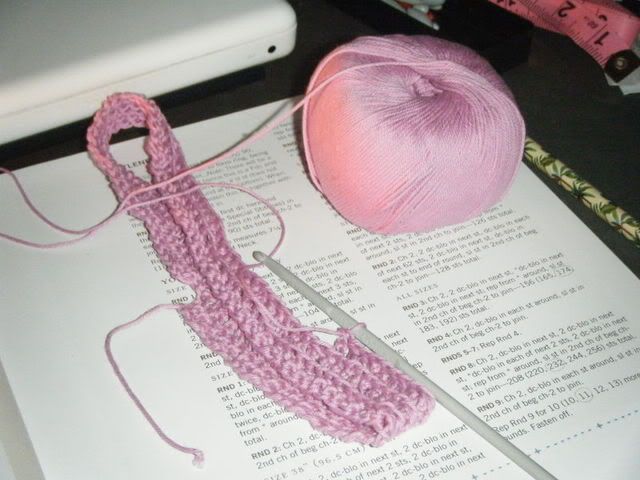 I really like working with this yarn so far. There's just something about cotton... the stitches are clean and defined, and the yarn seems tough and durable, while being soft and smooth. It's a lovely colour as well. I wasn't sure that I liked it when I first got it in the mail (and it's not like I had much choice when I bought it... it was that or bright orange. Yuck!), but it's been growing on me.
My second purchase was some sock yarn: Araucania Ranco Solid in the colourway called "Midnight". From the picture on the website, it looked sort of dark grey, but when it arrived, it looked more like black and navy blue, which is also pretty. I'm planning on using that to make some socks for the boyfriend: Treads from
Son of Stitch 'n' Bitch
.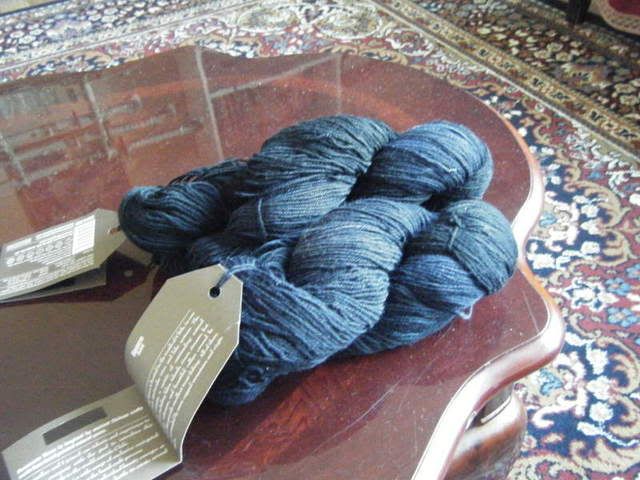 Yesterday, which was also a gorgeous day, I found a yarn shop in Kensington Market called
Lettuce Knit
. I didn't get to spend much time there because the others in my party were bored (I'm surprised they let me indulge in my yarn addiction at all), so I'll have to check it out again one of these days. It looked a little pricey for my tastes, but perhaps I'll indulge in some luxury yarn at some point...