And by home, I mean L-ville. I spent the weekend in Montreal, saw a few of my old friends, and had a generally good time. The main purpose for our visit was to attend the
Montreal Beer Festival
, and so we hung out there a fair bit, but I also got to see the
Massawippi Skank
, a band which originated in Lennoxville but is now based in Montreal. The keyboardist was in my
old band
, and is a very good friend of mine.
After partying it up in Montreal, I took a bus to Sherbrooke. I've been here a couple of days, and it sure does feel good to relax. I've got most of a purse done, using this
horseshoe lace pattern
, though I'm changing up the handle for an
i-cord
instead of the garter stitch strap, and the size will be narrower because the yarn I'm using is of a smaller gauge than the pattern calls for. I'm using a bamboo yarn from
Romni Wools
which I picked up on a whim
one day
and had been waiting for the perfect pattern to come along so I could use it up.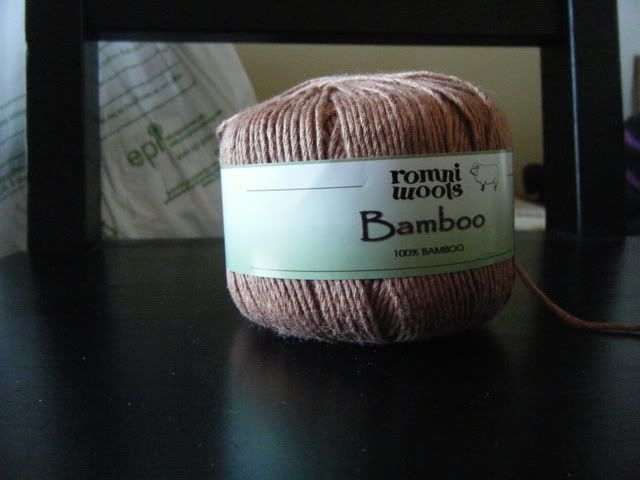 I love the colour and the lacy pattern shows off the yarn's texture nicely. Bamboo might now be my favourite fiber... it's all silky (without being as expensive as silk) and shiny, but it does split a lot, so one has to be careful when knitting with it. Other travel projects I've been working on include this tiny
Cthulhu
pattern
. I worked up one on the trip between Toronto and Montreal, originally intended for my friend Stevie, but which I ended up giving to a girl we were staying with since her squeals of delight upon seeing it were too hard to resist. Apparently there have been a steady stream of IT guys visiting her office at work to admire it. I took pictures, but I didn't bring my camera cable with me, so that'll have to wait until I get back to T-dot. I'm in the process of making another one to give to Stevie.
In other news, I've just about finished that Icelandic turtleneck. All that remains are the armwarmers, so I've been wearing the actual sweater around. It fits beautifully and it's super comfy.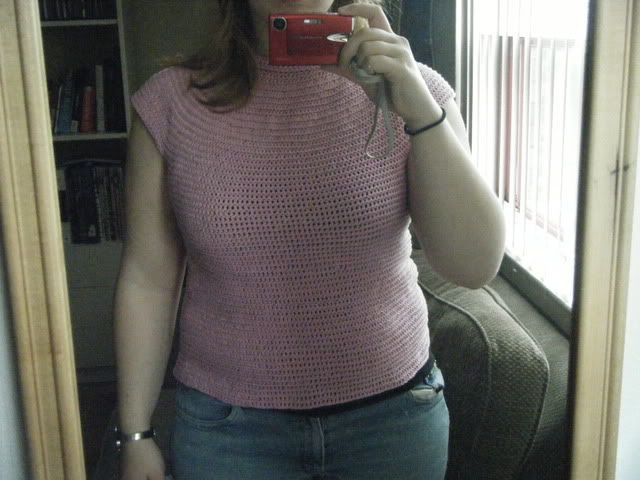 I ended up doing a rolled collar instead of the turtleneck, and I think it looks pretty decent.
Finally, Mom took me to the only yarn store in Sherbrooke yesterday (besides Zellers, that is), and I didn't buy any yarn (gasp!). I did buy some more knitting needles, which I'll use to make a few new projects when I get home to Toronto. In the meantime, here's some pictures of this gorgeous yarn my mom bought when we visited
Lettuce Knit
last time she visited.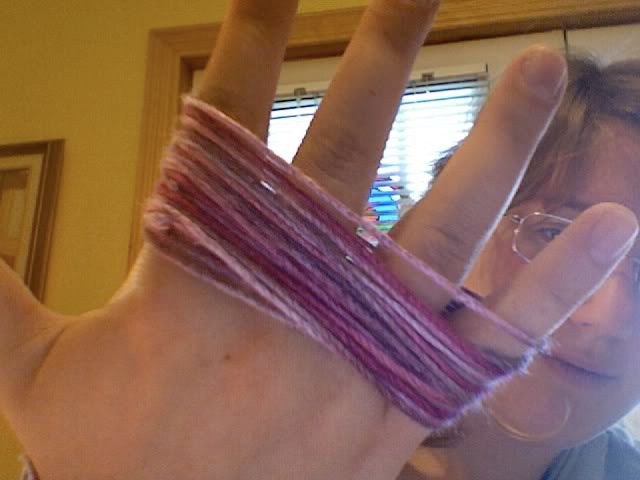 It's a half silk, half bamboo blend called Pearl from
Lorna's Lace
, and it cost $50 for 220 yards/3.5 ounces. But it's so gorgeous... I can't stop sneaking into her knitting bag and feeling it. It's hand-dyed in the most beautiful shades (the picture doesn't do it justice), and so soft and smooth... I'm in love.