... because it seems that people keep calling me up to do amazing random things, and I should really be documenting them. It's now been twice this week that I've received a phone call from a friend inviting me to come along on a crazy photo-worthy adventure. The first time was on Tuesday, when my ex-office mate invited me to accompany him on a tour of the
CN Tower
, until recently, the tallest building in the world (now it holds second place to the
Burj Dubai
). We were fortunate enough to meet a couple of tourists on their way out of Toronto who gave us their
City Passes
because they were leaving the city that evening. That meant that two of us could get in for free!
So we ascended the tower, after first getting our pictures taken in front of a green screen (which they would try to sell us later with the background replaced by a picture of the city as seen from the top of the tower), and being examined by a mysterious bomb-detecting device. The elevator, which travels at 22 km/h or something like that, inevitably made my ears pop, but it was worth it to see the ground receding from under us through the glass floor. We first stopped at the lookout level, where we could see the whole city through the 360-degree windows. I was a little disappointed that I couldn't find my apartment from up there, but it is very far away. We were there at the perfect time: just before sundown. Not only could we see a lovely sunset, we could also experience the city illuminated by daylight, as well as by the city lights once night had fallen.
We then went down to the glass floor level, where, sure enough, there's a glass floor that you can stand on and see the ground 342 m below. It was a little dizzying, and I'm glad I don't have vertigo. I was wearing a skirt, and I imagined that if someone down there had had a camera with a very strong magnification, he would have some interesting views. Hmm... new blog idea... Anyway, then we took a stroll around the outside of the tower, where it was very gusty (another problem when wearing a skirt), but the view was really cool, though slightly obstructed by a wire mesh, and we could see up close the LEDs which illuminate the tower at night. After a visit to their fancy pants bathroom (seriously, they had two different flush buttons, and a sheet of glass instead of sinks), we high-tailed home.
And since I didn't take any pictures (and blog posts of this length without pictures are boooooring), here's one ripped from I took during another downtown adventure: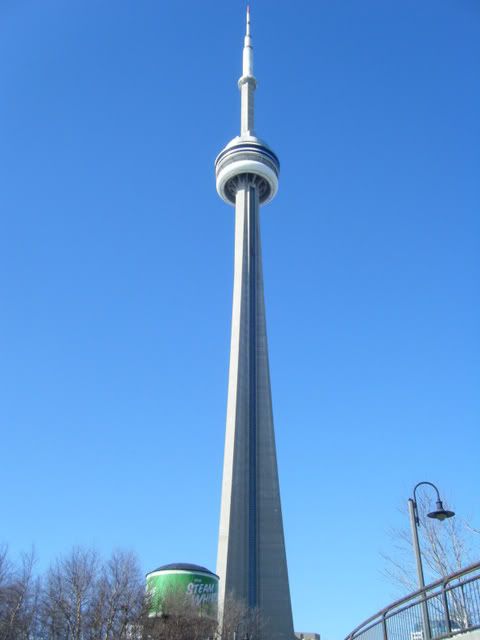 The second event which I should have brought a camera to was the live showing of
Q
, a CBC radio program featuring the eclectic. This show is probably most famous for the
"mashed potatoes without the gravy"
comment made by Billy Bob Thornton in an interview about his new(ish) band, Boxmasters. The show I saw this evening featured
Coeur de Pirate
,
GZA
of the Wu-Tang Clan,
Preston Manning
, and
Jim Cuddy
of Blue Rodeo. It was all fantastic, and the regulars, Mio Adilman and Elvira Kurt, were very entertaining. You can catch the video version of the show on YouTube at
QTV
. The host, Jian Ghomeshi, was really great with the audience, and answered lots of questions during the breaks and after the show.
And now here's Coeur de Pirate, who is cute, talented and only 19... (sorry to the non-bilinguals, video is in French)