Yesterday, I made a shopping trip at the
Yonge-Eglinton Centre
where I picked up some kitchen supplies at
Kitchen Stuff Plus
(I love that store!) and a few balls of cheap acrylic yarn at
Mary Maxim
(since Romni doesn't sell anything either cheap or acrylic).
That evening, the man and I went to the TSO where they played Ravel's
Alborada del gracioso
and his Piano Concerto for the Left Hand in D Major, as well as Prokofiev's Symphony No. 5 in B-flat Major, Op. 100. The soloist was
Louis Lortie
and the conductor was
Yannick Nézet-Séguin
. The performance was absolutely thrilling. Nothing beats live orchestral music... We were sitting in cheap seats behind the orchestra, which wasn't so bad because we could see all of the conductor's facial expressions, and besides being a little brass-heavy, the balance was ok.
Today I started and finished crocheting a quebecois beer cozy for my boyfriend. It is loosely based on that pirate can cozy I talked about in a
previous post
, except I had to invent a fleur-de-lis applique pattern and switch up the colours a bit to be more... erm... patriotic. It turned out pretty well (though the applique could probably have been better, but I'm lazy) and the man loves it. A picture and pattern will likely come later. I think he's really missing la belle province, and it's nice to have reminders of home. His Christmas present was a Quebec care package, and he was super happy.
Speaking of beer cozies, the eyes of the pirate beer cozy were starting to fall off (stupid french knots) so I decided to try my hand at beading, and this was the result: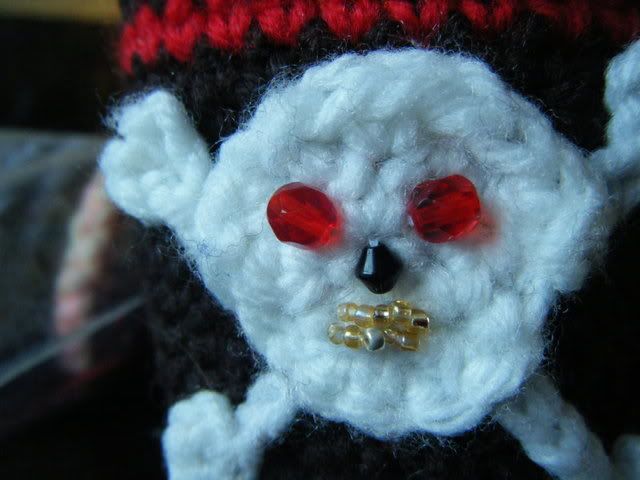 I think it's ok, though the mouth is kind of funky. It's my first time doing beading on fabric, so I guess it turned out alright for a beginner's attempt.
Finally (maybe), I started making a sleep mask for the man (gosh I'm a good girlfriend) from
this pattern
, altering it so that it's much less girly. I'm going to knit one layer of black and one layer of blue, and possibly put some fabric between these and then crochet them together with blue. The blue yarn I'm using is the leftover stuff from the quebecois cozy. It's
Patons Astra
in Electric Blue and it's very soft. I'm also doing it in stockinette stitch instead of garter stitch.
So, overall, I've been pretty productive, though probably not in the right areas of my life. I'm supposed to write an abstract for a poster representing my research by Tuesday, and there's this big pile of essays on my desk, just waiting to be marked...