In the same vein as the
post
about too much fuzzy yarn, I have too much pink acrylic yarn! When I first learned to crochet, I picked up a pound (yes, I was motivated) of worsted weight yarn of "unknown fiber content" at Zellers. It's apparently mostly acrylic, though I guess I can't be sure. I've made a few things with it, the first being a
crocheted off-the-shoulder top
which failed terribly. Well, I guess I failed terribly... At any rate, I somehow made it much too large (yeah yeah... always check your gauge), the front and the back pieces were different sizes, and even the nifty skull applique (from Not Your Mama's Crochet) didn't save it. It's in my stash waiting to be frogged.
Unfortunately, (or not, depending on your point of view) I still have most of it left over. It's not the greatest colour, though for some reason I thought it was when I bought it, and there's only so much you can make for yourself. I would make gifts out of it, but there aren't many people who I know who would want pink things. At the moment, I'm making the
Adult Devil Hat
, though it might turn into the
Official Kittyville Hat
if I change my mind at the last minute. I might even put a pom-pom on it...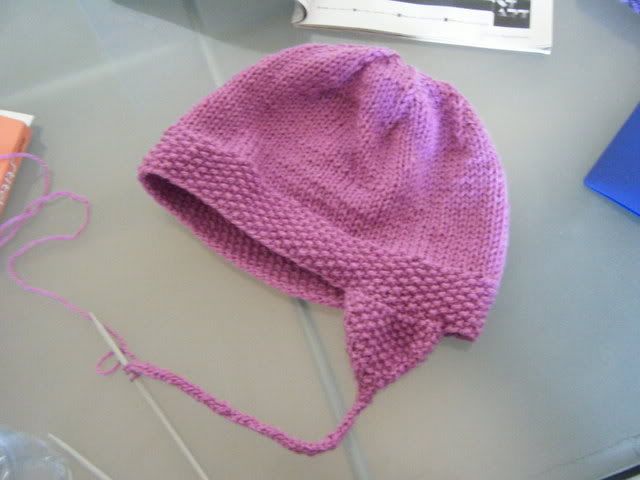 The other project I've made with this yarn is a
Do Not Disturb
sign from Knitty. It was my first attempt at colour changes and I'm really happy with it. I made it in two days part of which was during a car ride to Ottawa. It now resides happily on my bedroom door, though I suppose it's sort of silly since my boyfriend and I live alone.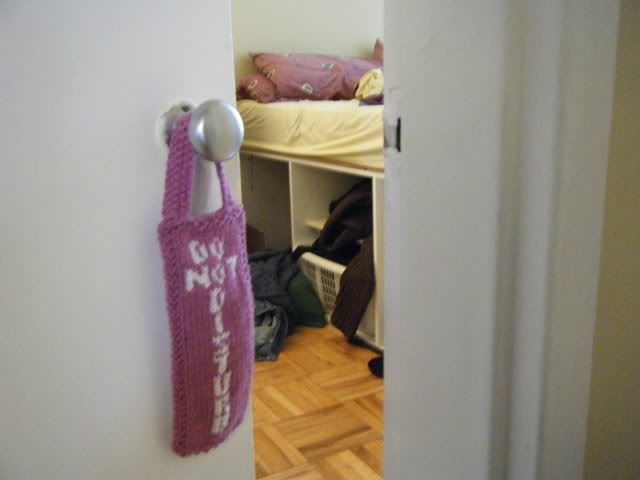 I don't know what to do with the rest of it... maybe I'll make some big project like an afghan.