On the Valentine's/Family Day weekend, some friends of ours were visiting from Ottawa. One, who shall be called C, stayed an extra couple of days so that we could see a Ben Folds concert (which was pretty awesome, by the way). The concert was on a Tuesday, and since the boyfriend had to work all day, C hung out with me for most of the day, following me on my errands and everything. We just happened to pass by the Yonge-Eglinton mall where there's a
Mary Maxim
, and since I can't resist a yarn store, we dropped in. C decided that he wanted to buy some yarn so I could make him a nice scarf, so we looked through the whole store, finally deciding on a nice variegated blue and brown.
However, leaving the store, we saw this gorgeous gorgeous ball of variegated copper, brown, green and blue yarn. It was two-ply and the yarn changed colour differently for each ply. It was really neat... and even though it was a chunky acrylic, it was still beautifully soft. So we returned the other yarn he'd bought right away and got that one. At about $10 for a 200g ball, it was a steal. Unfortunately, I've thrown out the yarn label, so I can't say what brand it is... but this is what it looked like: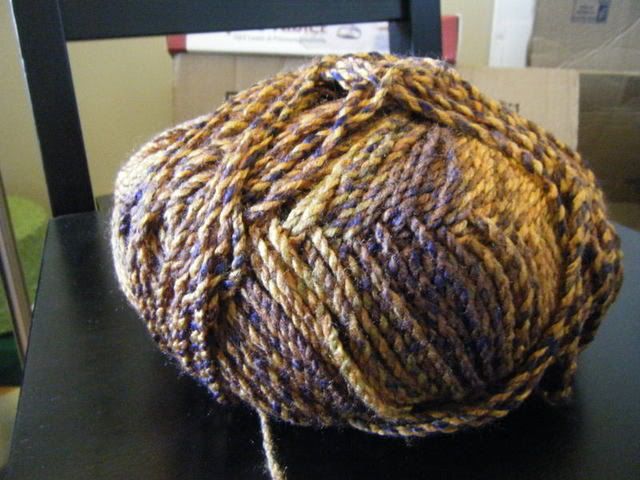 The day after C had to go back to Ottawa, I started knitting his scarf with a simple 1x1 ribbing pattern. It was really fast, and I got this picture the day after I started knitting it: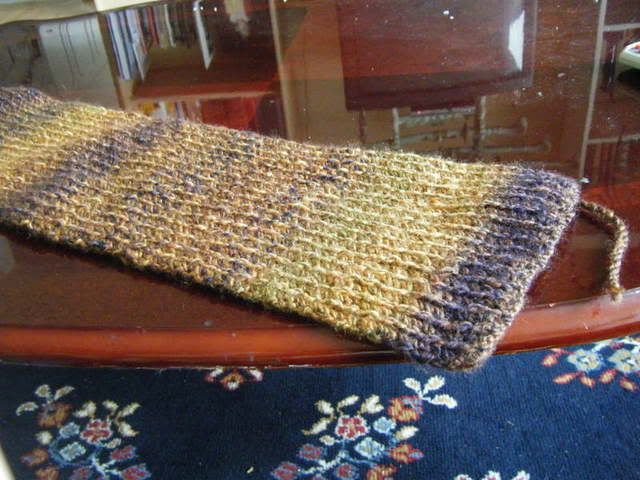 The yarn is a joy to work with. It's super soft, of course, and watching the colours change is rather addictive. I finished knitting it last night, and here's a wonderful self-portrait in the bathroom: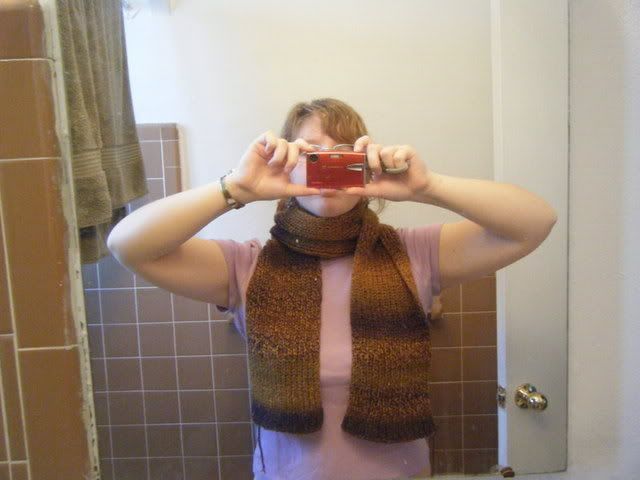 None of the colours really show up as well in the pictures as they look in real life, but that should give you some idea. I had a bunch of the yarn left over (turns out a 200g ball is really big!) so I'm also making a simple toque with the same 1x1 ribbing pattern. I'll have a picture of that when I'm finished.
I'm also currently working on this
gorgeous sweater
from Knitty. I have one more sleeve to knit up, then I have to sew the whole thing together and block it. I'm really excited about it. The yarn I'm using is a beautiful purple, and I'm sure it'll drape wonderfully when it's blocked. I'll post pictures of that too when I'm finished.